First, by popular demand, some pictures of the Haole Hauler, my Gentleman's Express.
This bike took me totally by surprise. I was looking for a singlespeed frame to replace the Cross Check that I broke last fall, and Bikeman had a sale on these Kona Major One frames. That's Kona's cross-specific single speed. It's got sliders instead of dropouts, so it's just the ticket for a fixie or single speed. The original plan was to shift the Cross Check's components onto the new frame and be done with it. The Kona had other plans though. When it arrived, it stunned me with its beauty. The frame is this gorgeous rootbeer brown, with fairly subtle white, black and yellow accents.
Once it was built up, I rode it, and found out that the thin scandium tubing delivers a sublime ride. I started falling in love with it - which is what happens with bikes sometimes - and decided I had to upgrade the running gear to stuff that is aesthetically and functionally appropriate to that superb frame.
My old rear wheel was shot, the Surly hub having eaten itself, so I looked around for suitable replacements. Fixed/free hubs don't seem to come in a good mid-grade option. They are either cheap - $50, available from IRO, Surly, Harris Cyclery and others, and seemingly manufactured by the same factory in Taiwan; or expensive - Dura Ace, White Industries, Phil Wood and so forth. I was unsatisfied with the Surly hub's durability, and went for the Phil Wood hub for the build, along with a Mavic MA 33 semi-aero rim, and 36 double butted spokes. (I already had a comparable front wheel built on a 105 hub, so no front build). All I can say about that is the wheel is great, and the hub quality is evident from the tight tolerances coupled with minimal rolling resistance. I'm afraid the cost of my bike builds from now on just went up $250. The result is a superb wheel, with a really understated hub - the epitome of what I look for in bike gear.
At the same time, I needed some fenders. My fixies get used a lot for training and utility rides, particularly in the winter and spring. I *love* me some fenders. But on a bike this nice, clip-ons wouldn't do. So I was looking for rear fenders, and an astute reader tipped me off about a sale that Cody at
Woody's Custom Fenders
was having. He happened to have a set of natural maple fenders with brass fittings on sale for about the price of a regular set of full coverage plastic fenders so I picked up a set. Although he has a lot of more complex designs available, this simple clearcoated maple matches this bike.
I needed a new saddle, but didn't want the hassles that come with a Brooks. It had to be brown, to match the bike. But I wanted some rivets. That led me to the brown Sella San Marco Regal, in tan suede, with copper rivets and rails.
The brake levers needed upgrading, so I went with the Cane Creeks, which are really solid and which have a nice feel in my hands. I put them on a Race Face 46cm bar with ergo drops - this wide bar is the correct size given my outsize shoulder width, and it is comfortable. Some tan tape from Salsa, and I was ready to roll.
The upgrades aren't quite done. I need to sort out a Thomson seatpost and stem, and there are some cantilever brakes in my future - not sure whether to run with the TRPs, or maybe some Kores or one guy suggested some Pauls. But those are minor upgrades. The Haole hauler is basically complete and I'm really happy with it. As one teammate pointed out, "it looks like a magazine bike, like everything was put together by design." Yeah. That's what I was aiming for.
-------------------------------------------------------------------

Just a quick note. One of my teammates, and favorite writers, and favorite people, is writing regularly again. The sound of ProTour Vittoria Evo Paves (25c, of course) hitting cobblestones in last week's Usetabe Omloop Het Volk apparently awakened Ryan, and
The Service Course
is once again taking care of all your Bike Racing Insight Needs.
-------------------------------------------------------------------

Time for your weekly shot of good music, right?
It used to be in popular music, that looks could be deceiving. Check out this bunch of dorks - looks like a board meeting of one of the
Big Eight accounting firms
. (I know that it's now the Big Three - but we use only the finest period-appropriate cultural references here at Rouleur Central).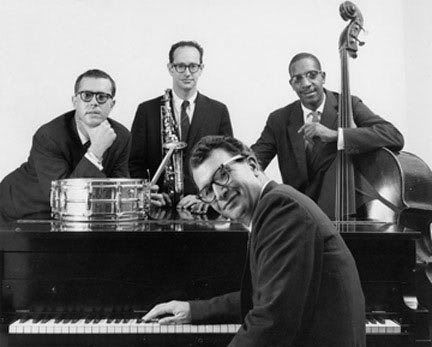 That is the Dave Brubeck Quartet. You will never see a squarer looking bunch of dudes, not even at the Engineers for Christ breakout prayer breakfast session at the annual
IIEE convention
. Eugene Wright was a Kansas City jazz/blues style bassist they called "The Senator." Not exactly punk rock material, eh? The innovative (and really square looking) drummer Joe Morello developed all sorts of new beats and really pushed the limits of cool jazz, while the accountant-like Paul Desmond played an extremely distinctive saxophone. Classically-trained pianist Dave Brubeck, a musical iconoclast, led the group in its experiments, and orchestrated a unique sound you will quickly recognize, even if you never knew about the group before today. The Quartet had a lot of different members over the years, but this iteration of it stuck together for about 15 years, and is referred to as the "Classic Quartet." You'll see why, right now.
First, let's take the A train, baby.
That's a pretty easy introduction to the quartet. Pretty standard cool jazz, not too heavy, won't blow your mind. But that was just a warm up. Now check this one out - you may recognize strains of
Rimsky-Korsakov
and early Miles Davis here, as Gustav Mahler might have mashed them up if he'd had a MacBook and some editing software. It's actually a nod to Mozart's lovely and then-innovative
Rondo Alla Turca
, and it's called Blue Rondo a la Turk. It features a goofy rhythm that somehow works.
Those guys didn't look cool, but you got 28% more cool just by listening to them play. Want to hear something that will really blow your mind? Check out the Unsquare Dance, which mashes up 7/4 (7/8?) rhythm, old school country and Alvin Ailey-style modern dance into cutting edge music and choreography.
Damn. Just damn. Where'd that square lookin' bunch of dudes come up with the idea for that trippy song and trippy video? BTW, the girl dancing there was a bigtime prima ballerina before she took to TV. There be art street cred in that piece, chirrets. Now here's the Quartet's signature piece, the one you will definitely recognize, even if you didn't know before now where it came from.
Where that music came from, mostly, is the Quartet's groundbreaking 1959 album, "Time Out." As the name suggests, the album is an experiment built around novel rhythm arrangements like 7/8 and 9/8. That bunch of would-be CPA's were breaking ground here, and although Miles Davis gets enormous (and well deserved) credit for his jazz improv work with Bitches Brew, it sucks the air out of the room in that era. The Quartet shouldn't be slighted for its incredible work, taking Davis's (and Coltrane's and Parker's) cool jazz, and raising its art factor by an order of magnitude. Brubeck, of course, was part of the cool jazz movement going back to the late 40's, and a contemporary of those artists, so he shouldn't be slighted as a figure in that movement, pre-Brubeck Quartet, either; it's just that he went so far beyond what Miles and Bird did, taking formal music theory and applying it to jazz even as his contemporaries' attention, and the attention of the critics, was largely turning to more improvisational forms and fusion.
Part of how we judge artists is by their cultural endurance, whether their original works can live on in the culture and be re-used, shaped and formed into new art. Did they contribute something lasting, or was their work a dead end?
The work done by the Dave Brubeck Quartet lives on; you've heard their original work all your life and probably didn't know who they are. It can also be recycled into something wonderful. Check this out.
Sweet, huh? So there you go - a straight line from Mozart, to Dave Brubeck, to Radiohead. Pop culture is mostly filth, but the parts of it we hang onto over the generations are often gold if you can scratch off the dirt and get underneath the corrosion. I like doing this Friday music thing because in researching it, some weeks I'm forced to look for the strands of gold thread.
Now, apropos of nothing - maybe not nothing, maybe this week I'm just missing some people who used to be in my life but who have left this world's cares behind - here's a little Warren Zevon.
Afterword: If you were curious but didn't follow the link to the Mozart, here's Rondo Alla Turca. You deserve this after reading through all that.