I'm sure plenty of normal people drive Smart Cars. The handful I've seen driven near my house... well, let's just say the drivers conform to a certain stereotype, based on appearance, smug bumper stickers, and shopping habits. It's funny because there are many cars that get better mileage while providing more luxurious rides, including some sweet VWs. You should be smugger in proportion to the square of your mileage, right? This makes me think that the Smart Car is the hair shirt of Cars That Are Saving The World Unlike Your Car You Gaia Abuser. Which is quite an accomplishment, since most Cars That Are Saving The World Unlike Your Car You Gaia Abuser are kind of hair shirty to begin with.
The thought that always crosses my mind as I see a Smart Car ultra mile-ing, typically holding up a long line of traffic and irritating a guy in a semi or a huge Waste Management, Inc. trashtruck - my thought is a question about what a Smart Car would look like if it got hit by one of those pissed off trucks.
So just in case you're wondering too... this is what a SmartCar looks like after it crashes into a truck.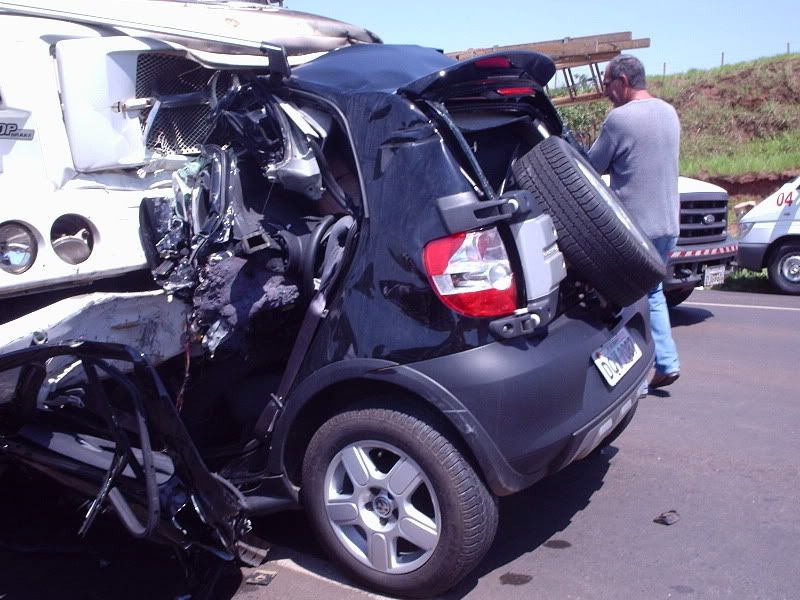 I suspect that none of the occupants were harmed because, based on the bumper stickers I've seen on local Smarts, a thick cloud of smug moral superiority deployed years before protects the occupants from having any impact.
FWIW, I think calling a car "The Smart" is about as unctuous as it gets. Might as well put out company literature calling other cars The Dumbs. Maybe it's a selling point for people who feel they aren't quite arrogant enough as it is... kinda makes me laugh. But isn't that 60 MPG VW turbodiesel that hammers more deserving of the Smart Car moniker than the crushed breadbox in the picture above?
Don't get me wrong. If there's no parking in your neighborhood and you have a 4 mile driveable commute, it makes sense. But I live in the distant burbs, where long haul, comfortable commuters make sense, not tiny parking maven go karts. And I'm all for saving the Earth and everything, but ramping up the Smug and Self Congratulatory Quotient by 176% while you're doing so is kind of like expecting to get a Presidential Freedom Medal for coming out against premeditated murder. It isn't exactly a Brave Social Stance to do something pretty much everybody is already in favor of to one extent or another, and I'm not sure you get Chris Rock's cookie just 'cuz you drive a car that gets modestly better mileage than a fairly luxurious 4 cylinder Camry.
Although that picture makes me wonder if people who drive Smart Cars don't deserve some kind of medal for bravery. Or some other mental / psychological characteristic.
Update: alert reader Anonymous (probably a marketing intern at Smart) points me to a link indicating the car in question may actually be the tiny faux sport ute VW Crossfox, which looks equally flimsy but which sports, um, sport ute styling and a mini back seat, Tonka Truck style. I think you're nuts to drive one of them, too. Though you probably don't have as many irritating bumper stickers.