Separated at Birth:
Frost Bank Tower, Austin, TX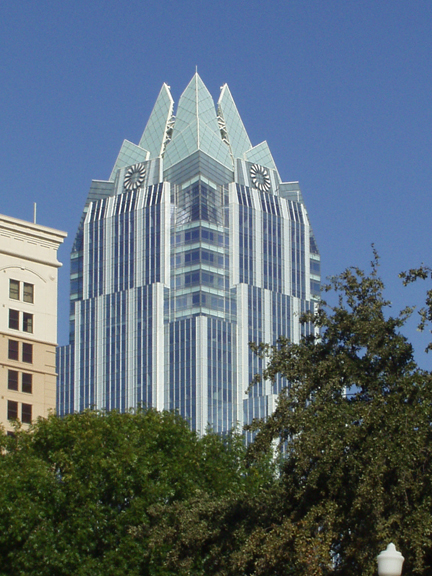 --------------------------------------
Whaling Wars. I don't know if you ever catch this program but it's on Animal Planet and it's about a bunch of people who though Sierra Club and Earth First were a bunch of pussies with wishy-washy beliefs, so they bought a boat and decided to go hassle illegal Japanese whalers in the Antarctic Ocean. They use "direct action" protest tactics which is a euphemism for illegal vandalism and possibly assault, things which may rise up to serious violations of the Law of the Sea when you commit them in a dangerous place like the Atlantic. They like to try to catch the whalers, often labeled "research vessel" and throw stinky acid on the deck to wreck the flavor of the whale meat, to attempt to board the boats or to ram them. The only problem is that most of the crew don't appear to know what they are doing, they are on a beat up old boat they re-named "The Steve Irwin" (another guy who played with fire, BTW), and they are tooling around in the iciest and most violent seas in the world on a boat that isn't rated to float in a cocktail glass if there's an ice cube in it. I find myself rooting for the Japanese whalers, even though I dislike lawbreaking, hate overfishing, and find frauds repulsive. The whale savers are that repulsive to me, and here's why.
For one thing, they are engaged in the kind of protest that is really appealing to activists, but which repulses many people in the mainstream, the folks you need to win over if you want your cause to prevail. It's like the jackasses who use Critical Mass as an excuse to get stoned up and foul and to break stuff - people may put up with gentle civil disobedience and still listen to you, but when you start threatening to kick their asses, the argument is over, and the guy brandishing the fists has lost. Thing is, we need to be responsible in how we manage the oceans, and this kind of foolishness does much to discredit legitimate conservationists who follow the laws, by allowing their opponents to smear them with the deeds of the 'direct action' protesters. Don't get me wrong - I think Critical Mass done right, in the style of civil disobedience, is just the thing to protest police and prosecutor inaction in the face of vehicular manslaughter, and to protest policy travesties that shaft the bicycling community. But it can go too far, and when it does, it hurts the cause more than it helps, and the only thing that gets advanced is the ego of the protesters.
For another thing, they are really freaking incompetent. They have a first mate who can't navigate, for example. He seems unable to do a reverse azimuth - that means he can't look at a small ship on the radar bearing 10 degrees, and radio to them that they need to travel on a course of 190 degrees to return to the ship. He's also an abrasive and smarmy know-it-all. In the office, somebody like this is merely insufferable. On an expedition, on a ship or in battle, somebody like that is the sort of fool who gets people killed. They have a bunch of crew, for another example, who don't know how to make fast their personal gear. Every episode shot during choppy seas features a bunch of expensive laptops, books and the like hitting the deck when the ship rolls a tiny bit. And the worst part is, the competent people on the ship seem to be stuck in second fiddle positions, under a captain who does not do what is necessary to run a ship. Afloat, the captain is God, king, priest and doctor; a captain who is indecisive and lets the ship be run as a democracy endangers the ship. The Steve Irwin appears to be operated like a New England town hall meeting. It happens that direct democracy is an okay way to run a small town; it's just not a great way to run what is in essence a paramilitary operation, particularly when it occurs in an inherently dangerous environment like a boat where the outcome hinges much more on technical expertise and decisive action than on empowering even the lowest ranked 'citizens.'
For another 'nother thing, there's no discipline. When the small boats lose touch with the mothership (take that term how you like) they stop communicating by radio. There's something like panic on the big ship. Eventually, the small boats show up. They inform the officers they stopped communicating by radio because the seas were really rough. Then there's the rubber boat launching drill. They have a couple rubber boats that they use to chase down the whalers for boarding or stink bombing. It seems to take them forever to get the boats off their moorings on the deck, and into the water. Now I'm not a sailor, but I've been on enough boats big and small to know that the crew have to be disciplined and know what they are doing, or you wind up putting lives in danger unnecessarily. I also know from military and some limited EMS experience that radio discipline is absolutely essential to this. You simply do not miss status checks on the radio; otherwise you may trigger a rescue attempt as people try to find the missing units (a dangerous activity in and of itself) or you may get left behind as a result. Same too with the boats - watching the zodiacs bounce off the side of the big boat, with a bunch of crew spectating and a couple hands trying futilely to control the movement, is a picture of undiscipline. I'm betting that pretty much any navy worth the name, and any successful commercial vessel that relied on small boat operations would drill boat launching until the crew could do it in their sleep, half drunk, at 50% staffing. When your entire mission relies on getting the boats in the water quickly, wouldn't you think that drilling on boat launching would be one of the main preoccuptions of the ship?
The bottom line for me is this. I'm more on the side of the Sea Shepherds than against them. I agree that illegal whaling (and for that matter a lot of illegal overharvesting of the seas) must be stopped. But I hate the incompetent, dangerous, probably illegal and ultimately ineffective way they are going about it. In the long run, like some Critical Mass events, it may do more to undercut a good cause than to advance it.
I think they're worse than wrong. They're incompetent.
-------------------------------------------
This ends this broadcast of the Emergency Curmudgeon Broadcasting Network. We will now join our regularly scheduling programming (sleep followed by 4 hours of zone 2 cruise) already in progress. Have a nice weekend of riding friends. See you out on the road, I hope.