We watched World's Fastest Indian tonight, based on a true story about an eccentric New Zealander, Burt Munro, who piloted an antique Indian motorcycle to various land speed records at Bonneville Salt Flats. Munro was a really funny guy who did in fact live in a shack, and did in fact machine up most of the hot rod parts on his bike by hand.

Anthony Hopkins played an excellent lead role, disappearing into the character he creates, as heusually does. One of the interesting things was the role that some prominent men in American motor racing played in Munro's racing, or at least in this story of it. While NASCAR is sort of the face of American racing, people forget that we bred generations of great sports car and auto endurance racers, a lot of great desert racers, and before that whole generations of great motorcycle racers. There was also a hot rod culture, bikes and cars, that pre-existed any other 'civilianized' performance culture anywhere in the world. That is, an ordinary guy could get a car, hop it up, race it, and sometimes beat the pros. Burt Munro beat us at our own game, however.

It ocurred to me, I like racing. I *love* bike racing, but when it comes down to it, I'll watch anything and anybody race. Damned if that's not one of the most interesting things in the world - I don't care if it's airplanes, sailboats, bikes, runners, or a couple cockroaches dropped on a tabletop. Let 'em race and let's us have a beer and make a bet about whose boy is faster.
Yeah, I'm a bit of a gearhead too, not sure if you are but maybe you might might like a real brief appreciation of America's motor racing past, starting with Rollie Free, who features in World's Fastest Indian. He stripped down to his Speedo because it had less drag than his leathers. He set a land speed record of 150 MPH when he did it. This is kind of a famous photo:
Speaking of brave, how would you like to roll at 115 miles per on a rough hewn wooden velodrome, thundering along rattling boards, with a pretty strong possibility of death or severe injury, getting splattered with half-burned castor oil all night long, for $50? (Yes, that's right... race, then crap your pants. We're talkin' glamor:
Erwin "Cannonball" Baker and Jake DeRosier figured prominently in the early days of U.S. motorcycle racing, but there were a lot of great (and short lived) heroes who rode big Indians, Harleys, Excellsior-Hendersons and a handful of other brands. Don't laugh, along with bicycle track racing and boxing, this was the biggest thing going in the 'teens and early twenties. Then there's the golden age of drag racing. Here's the most flamboyant pair of the era, Jungle Jim Liberman and his sidekick, Pam.

Okay, so maybe they were popular more because he used Pam Hardy as his starter, but the fact remains that Jungle Jim was a great drag racer with a lot of flair. She was really key to his routine because he didn't do a lot of NHRA bracket racing, focusing instead on "match racing," challenge races against one other racer for cash prizes. Pam would flag the race, Jungle Jim would win it, and the crowd would go wild. You don't get that kind of show today in any sort of racing - we're all lawyered up, fully insured, refereed, and hidebound.
Another great American racer was "King" Kenny Roberts. He tore up the motorcycle roadracing and dirt track scene, then moved on to race Grands Prix in Europe. He won what used to be the Motorcycle Formula 1 world championship three times, putting the fear of God into the Euros who used to dominate the sport. He was a trailblazer, and an absolute prodigy on the bike.
Then there's maybe the greatest American motorsports racers of all time,
Bob Bondurant
. I could go into a list of his palmares, but it's easier to just say, if it had four wheels, he raced it, and he kicked ass. He's another guy who competed against the Euros on their home turf, sports car and open wheel racing, and did well. He won races in the U.S. He has taught thousands of other racers how to race at his racing school. He's the man.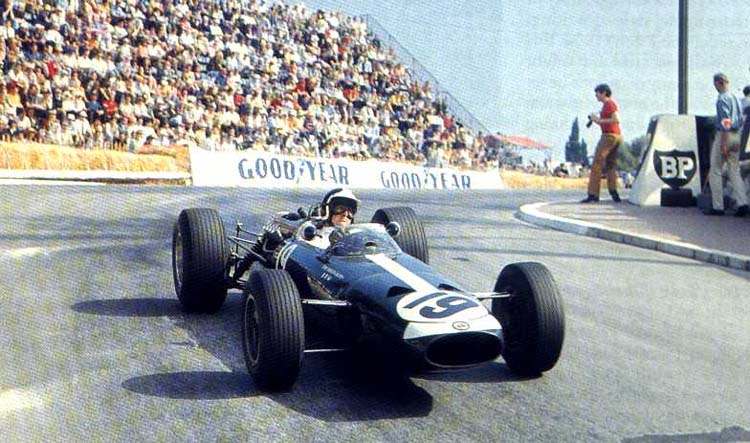 Obviously, I can't even touch on the tip of the iceberg of motor racing in the U.S. It is as deep and wide here as soccer is in Europe. But if you look at the couple of gents I've named, you'll find that they intersect with the center mass of given eras of racing. You look them up, see who they raced against and follow those trees out a little ways, you'll pick up the key details of the era. I guess that's what's really interesting about the history of motor racing in the U.S. - it's a series of webs of interesting people and stories about races that reflects the broader petroleum-based culture we live in.