Instead of eating pumpkin pie after dinner this Thursday, why not try eating some delicious and wholesome watermelon? It's out of season right now so you won't have the domestic kind, but you can get one of the big round ones imported from Brazil. *Everybody* loves watermelon, from the smallest and most innocent child in the world, up to the podium contenders in the World's Evilest Dictator Competition, 20th Century Round.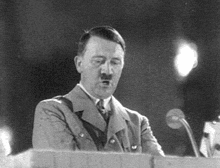 Watermelon often surprises us with hints of subtle and delicate flavors, much like a fine coffee or scotch will surprise us with hints of melon. If you look closely at the video, the world's evilest watermelon afficionado takes a bite, rolls his eyes with delight, and says, "a bouquet like shrimp!"
Watermelons are like a box of chocolates; you never know what you'll get.