- It was a rest day so I had time to catch the news. I notice a prominent politician stepped in it by saying that when times are tough, we commoners resort to guns 'n' God. Which sounds like a pretty good title for a church to me, if you were to add another "G" word in there, like Gennie Cream Ale. God, guns, and Gennie Creamers... it don't get much better than that, Clete. Okay, I keed. But still, what's wrong with exercising your first and second amendment rights? Is it bad that when times are tough, a lot of people won't allow the quartering of troops either? I'm just sayin'.
Either way, I noticed some people have been riffin' on this theme for a while. As for me and my beliefs, I'll just note that
Alcohol, Tobacco and Firearms
sounds like a bad name for a government agency, but a damned good name for a convenience store, and leave it at that.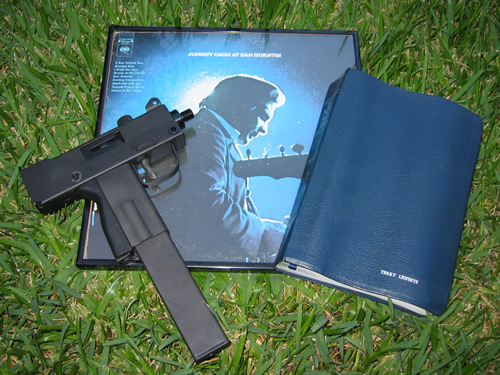 Or was the candidate talking smack about these profligate God & Gun mixers? I don't know...
As any kid who went to Catholic school back in the old days could tell you, ya don't f*** with the penguins. That's especially true if they are packing heat. Those old girls were deadly with an eraser, a textbook (kin to the boomerang, apparently) and a triangular wooden ruler; I can't imagine the fresh types of hell they'd unleash if you armed 'em up with 12 gauge pump action shotguns. Just take my word and don't screw with the penguins, m'kay?
In other Papist news, the Pope is coming to Washington. I'll probably cut work for a few hours Thursday to check him out when he heads down Pennsylvania Ave. In keeping with his background as an ass-kicking theologian of German heritage, here we seem him practicing his moves to deal with the unholy D.C. traffic.
Stop! Pedestrians have right of way.
Don't make me send you to hell now, because you know I will...
Okay, that's cool and all, everybody loves a good papal visit and everything, mass in a football stadium and the popemobile.
But you know what really rocks? A good hockey playoff full tilt check. Like where Calgary Flames' Corey Sarich knocks the ever-loving kidneys right out of the San Jose Sharks' Patrick Marleau right here:
What did that hit do in the game? It took a depressed Flames' team that had its ass in its hands, motivated them, and sparked a comeback. The Flames were down 3-0 at the time of that hit. They came back and won, 4-3. Sweeeeet. Betcha can't do that in an industrial park crit.