Some thoughts from the commute/workout today.
- It rained the whole way in this morning. Yeah, laugh all you want about the fenders on my Surly, but I was merely damp when I got to work, and I didn't have a fricking black stripe up my white and blue jersey.
- Clammy doesn't even begin to describe how your skin feels after an hour in a plastic bicycling rain jacket on a cold day. It's dry-er than being rained on the whole time... but it's so cold and slimy a dead eel would recoil from touching you. Oh yeah, and the smell in my office with all my wet cycling clothes drying off all day long, and the heat on... it'd make a maggot puke.
- They need to put more porta-johns out on the side of the road. I got into the office and had to elevator up to the 13th floor, get my gym bag, and hobble into the locker room like Eddie Murphy playing an elderly obese lady in high heels... Yeah, sure, my time on the Seat of Repose was wonderful, I represented on behalf of Kashi with a world championship performance, but I very nearly didn't make it. And no, I wasn't about to use the porta potty they have out near the sand volleyball pits by Memorial Bridge. This time of year, in addition to being cold, wet, and rarely emptied, it is frequented solely by homeless people, and bicycle commuters on high fiber diets. Yes, that's right. It's the Crapper of the Damned. I wasn't about to go in there, not without backup.
- The fixed gear CrossCheck is nice to have when riding on mostly frozen-over dirt trails with tons of surface ice. The fat, treaded tires are even nicer. And taking the hose to the bike for 45 seconds to clean it when I got home... even nicer-er. Having a fixed gear tank for a winter trainer isn't a bad idea.
- Riding home, I heard a little brake rub on the right side of the front and back wheels. That's weird... it was dark though so I couldn't stop. When I did stop, I found softball-sized mud clumps packed into the cantilever brakes on the right side only, probably because I had been riding along in a rut, with ice on one side of the rut, mud on the other (right) side. On a caliper or vee-braked bike, that would have been a deal breaker. On cantis... minor irritation. Hooooraaaayyy Cantis!
- I was tired this morning; not enough sleep. Riding the fixie into work, I was scared shitless I'd forget to pedal and crash. Really, it was like I'd forgotten to pay my tax returns or something. Fixies remind me of a couple dangerous acting redheaded girls I dated before meeting Sainted Wife... lots of fun, some good reasons to date each of them, interesting, but there was always the lurking sense that one day I'd wake up to find a knife buried to the hilt in my sternum. No particular reason why - just a gut feeling. If either one of them showed up on one of the girl-oriented news magazine TV shows having killed their fourth husband, it wouldn't shock me. Same as if my fixie decides one day it wants to throw me to the ground and stomp on me... wouldn't be shocking in the least. I love riding fixed but it's a dangerous habit.
- Unrelated interesting story
here
about your cells. It seems that they make noise. It's hard to hear, you have to listen really close, but scientists have heard the noise your cells make. That's right, each individual cell makes a noise. What does it sound like? A steady scream at roughly two octaves above middle C. As one of the authors of the article put it, "I think if you listened to it for too long, you would go mad." Of course, anybody who has raced cross could have told them that cells scream... what else could be causing that pounding noise in your ears, the howling coming from your legs, and that voice that keeps saying, "Dude, you suck. You should take up bowling."
Artist's Impression:
Your Cells During a 'Cross Race*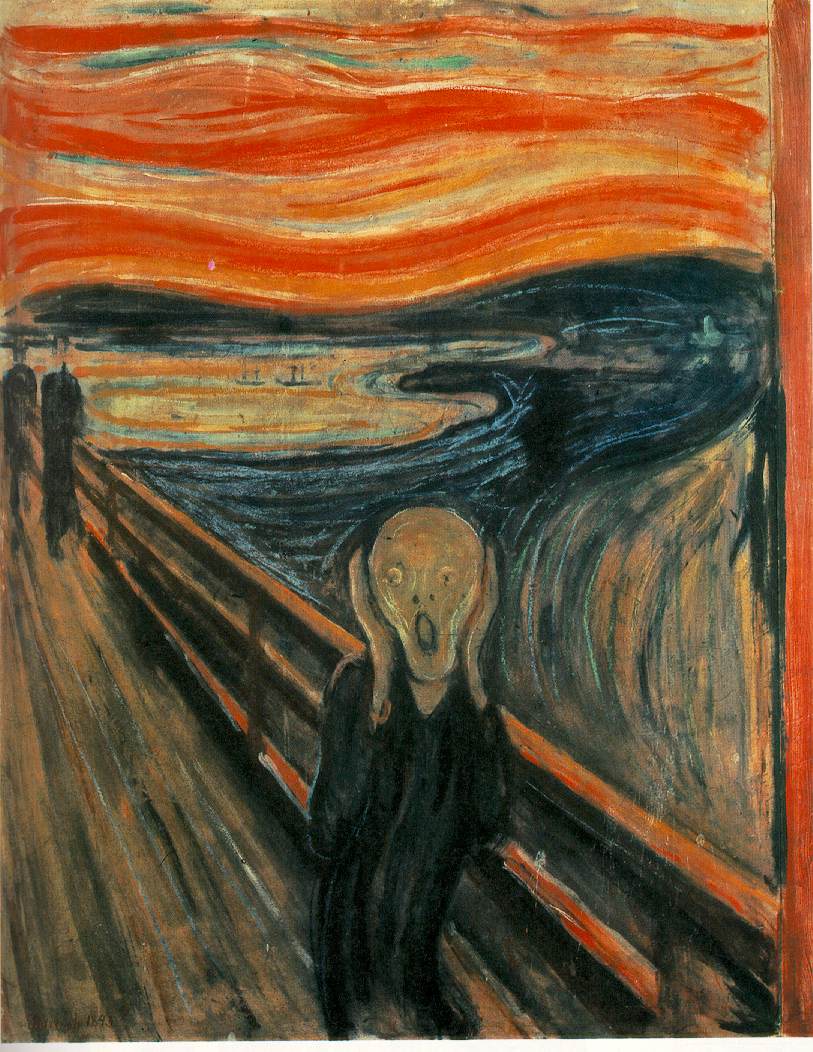 *The two shadowy figures in black at the rear are the cells of a couple guys from Hunt Valley. They're getting ready to kick your cell's ass when he gets off the bridge and hits the runup.