"Yes Timmy, everything is backwards and upside down in the
Southern Hemisphere. For instance, in Australia, bicycles ride humans to work."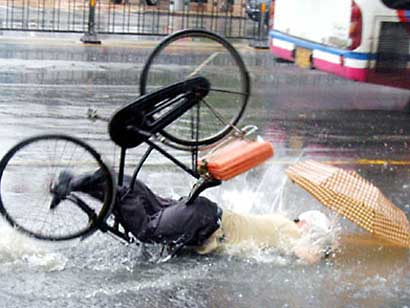 "Oh yeah, it's definitely flat. Good thing you got Neutral Ass Support today."
A sign warning local trains to slow as they approach the Cusmano Crossing*
"Shit yeah, *anybody* can bunny hop the barriers in cyclocross."
"Fill your tires with Hydrogen. It's lighter than air and will help you climb.
Flammable? Naaah, you're thinking Helium.
Of course I'm right.
.."
"Hey, don't laugh. Rednecks *never* make fun of me any more.
I just wish it would stop kicking..."

* Cusmano - the Squadra's designated Crashmonkey. Also, a synonym for inexplicable training crash leading to serious injury.