This is the first in a series where I ask some pairs of well known experts how to fix various problems. For the first installation, I've asked
Sheldon Brown
to answer some questions about bike maintenance, while
Sheldon Brown
will answer some questions about football.
________________________________________________

Dear Sheldon

,

I have a 2006 Orbea Orca. I rode it in a heavy rainstorm down near my beach house on Emerald Isle in August. Now the bottom bracket is making creaking noises, and it feels like there is grit in the bearings. Do I need to replace the bearings, or can they be repacked? Thanks.

Eric Mangina
Meadowlands, NJ
Dear Eric
,
I recommend going with a Tampa 2 cover scheme in most circumstances, unless you are facing a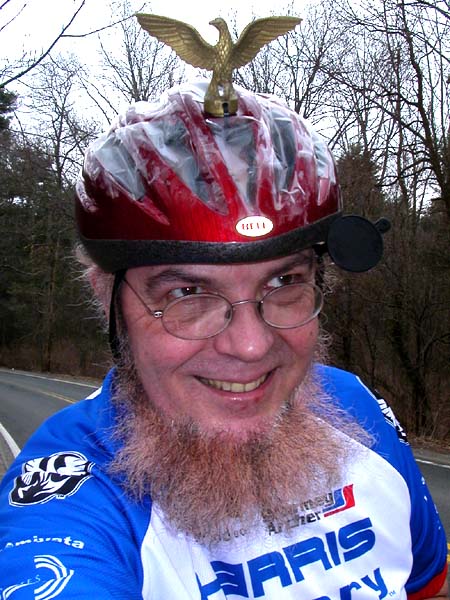 Max Protect blocking scheme. If that happens, put 7 in the box, and run a Red Dog. (That's what we in the industry call a Strong Safety blitz). That should fix your problems. If that doesn't work, hire the last head coach that took your team to the Superbowl, buy a bunch of expensive All-Pro free agents who never put out ever again, bench your best defender, and change the defensive scheme yearly just to put the fear of God in the defensive players and to distract the fans from your
dubiously legal tree cutting activities on your obscene estate
in a picturesque town. Sure, some people would call it sheer insanity to do that, but it
seems to make some people happy
.
________________________________________________

Dear Sheldon

,

I made a horrible mistake a couple months ago. I caught my former boss videotaping my subordinates secretly. Everybody in our industry does this, but I wanted to score points against him because he was doing it to scope out our fantasy football lineups for the weekend, and also, quite frankly, I'm sort of a dickhead. Anyhow, I made a big deal about it, told everybody, whined like a beotch, and now my former boss totally has a case of the ass. He is destroying everybody in our fantasy football league, hanging like 50 points on us every game, and just drilling us and giving us massive amounts of crap about it. What should I do?

Now just hypothetically speaking, assume I was an NFL coach. Would that change your answer any?

Eric Mangina
Meadowlands, NJ
Dear Eric
,
I have to tell you, I think steel is definitely superior to carbon. Sure, carbon is really light and strong. But we don't really know how it will hold up over time. Yep, a lot of 10-12 year-old
carbon bikes are on the road. But I have this 105 year-old Italian Castironi Cookstoveo that I ride to work every day in the winter. It runs like a charm, even though it isn't made out of the latest material, and the riveted leather drive belts are tough to replace. But it's wonderful and I'd never trade it in for some new-fangled bike. And to tell you the truth, I'm even a little skeptical about steel as a bike building material - cast and wrought iron have much stronger pedigrees as building materials, as do granite and sandstone blocks. You've never see the Great Pyramids of Giza crumble in a racing crash, have you? Of course not. The weight of a sandstone bike, however, may pose some concerns for smaller riders, but the remedy for them is to ride more and get stronger. That's how they used to do it in the old days, and that's how I do it today.
Sheldon
________________________________________________

Dear Sheldon

,

I'm building up a fixed gear bike. I've heard a lot of people debating about what to do for a rear hub/cog combination. I don't have a lot of money, and would prefer to make do with this old 8 speed hub I have. Thing is, while I can screw on a cog, there's no room for a lockring. So I'd like to just braze the cog on or maybe just use this old soldering gun I pulled out of the trash. Then I'll powdercoat the bike, put on an argyle top tube, and tie a flashy red bandana around the seatpost. But will the cog be secure enough? I intend to ride the bike without brakes because I think bikes are a lot cooler that way. Y'know, in a hottt/phat sort of way.

Mike Snobb, NYC
Dear Mike
,
That's a hell of a tough question. Ordinarily, I think you have to compare the other team's offensive abilities to your own defensive abilities, and consider field position and the amount of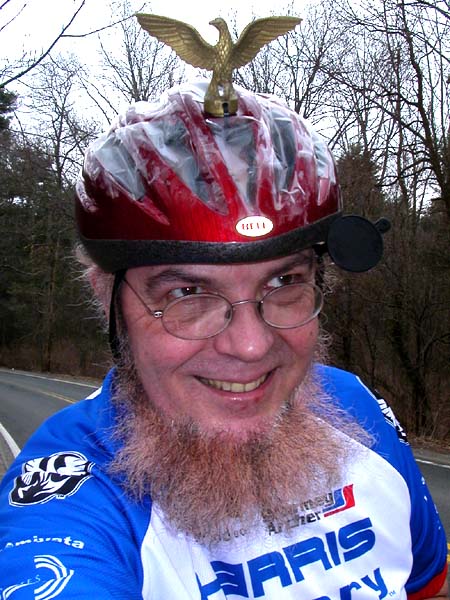 time on the clock. If time is really short, your backs are awesome, and their offense is piloted by some sketchy quarterback with an erratic slingshot of an arm - say Rex Grossman or Mark Brunell - then the Prevent Defense makes a lot of sense, as long as they are deep in their own territory and you can afford to give up 40 yards in two plays. But if the quarterback has a good arm, eliminating the rush and leaving the center of the field open makes it easy for the offense to get past midfield with just one or two tight end routes up the middle of the field. I'd personally rather play straight up Dog D, and make them beat us man-to-man, rather than conceding big chunks of the field to chumps that haven't proven their ability to take territory from us. Like Gregg Easterbrook says, the only thing the Prevent prevents, is winning. I hope this helps, but in your case, I wouldn't bet on it.
Sheldon
________________________________________________


Dear Sheldon

,

My son plays on the local high school football team. He's a strong athlete and a good student, but he can't seem to catch the coach's eye. He normally plays defensive back, just like you (in fact you're one of his heroes) and he also plays split end / slotback. Although he's been doing well in Junior Varsity games, he can't seem to break into the starting lineup of the Varsity. He plays pretty solid ball, no mistakes, but just doesn't really have a clue about how to get himself noticed. I'm no help since I wrestled and drank beer in high school. My son's team typically runs a 3-4 defense, and the Stanford variation of the West Coast Offense. What can he do to raise his game and make the coach notice him? It's really important to us that he earns a college football scholarship and goes on to play in the pros, so he can shower us with fame and bling.



John Bennet Ramsey, Sr.
Dear John
,
Hey, that's a funny thing to start a letter with. It sounds like we're breaking up. When in reality, we never really even dated. Anyhow, damn, but that's a tough question. In the old days,
we used sintered whale blubber to lubricate our bi-cycle drivetrains, which were made from tanned hog bladders tied together at the ends using a sheepshank knot. I feel that was a superior method to modern "chains". But with the demise of the use of natural animal products in bi-cycle manufacture, not to mention the demise of most of the whales, the industry came to rely on a lot of other lubricants. In short, the "wet" lubricants are generally petroleum-based and are good for general use. "Dry" lubricants, which often come in a quick-drying spray-on form, are good for very cold or dusty climates. Among the dry lubricants, I prefer graphite or teflon. The other main kind of lubricant, cherry-flavored, is primarily good for sex but will work in a pinch in cyclocross and mountain bike races.
Good luck with the slip & slide.
Sheldon Brown
________________________________________________

Dear Sheldon

,



I roadrace and ride cyclocross, and am having a bit of a crisis relating to tires. I'm getting to a point in my racing where I think premium tires could make a difference. I've ridden some tubular tires recently, and find them smoother rolling, more comfortable, safer when they blow, and more in keeping with the bicycle aesthetic. But I have real qualms about the cost, not to mention the glue. Frankly, that last time I was gluing anything I inadvertently stuck my hand to my forehead. Long story, but it is true and I'm still in therapy as a result. I've also read some studies that show tubulars actually have higher rolling resistance at certain speeds and on certain surfaces, than do clinchers. So should I gather it all up in a bag and make the leap to tubulars? What do you think?

B. Arrywicks, Gloucester, MA


Dear Mr. Arrywicks
,
That's always the question, isn't it? I've always thought that if your QB lacks footspeed and arm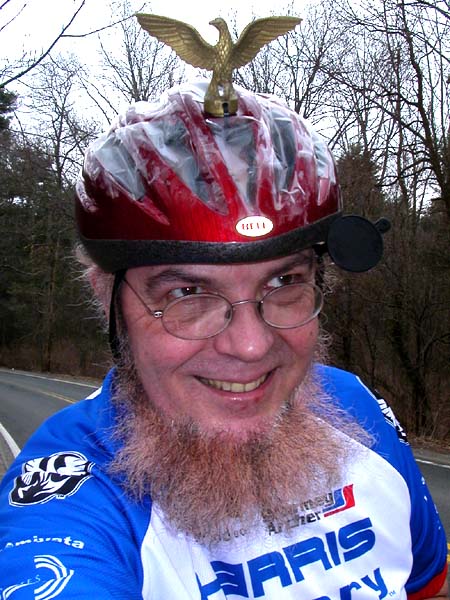 strength, that the best strategy is to limit the demands that the offensive scheme places on him. Teams have had great luck with weak QB's such as Kyle Boller, Trent Green, and Neil O'Donnell in this manner. On the other hand, the shotgun does tend to give a weak QB an extra second of time to make decisions, and it eliminates the normal problems that would stem from limited footspeed. *That* puts in a crimp in the running game, however. In the end, it all comes down to footspeed. I would ask whether you've considered taking up bicycling, Mr. Arrywicks, since I don't think this football thing is likely to work out for you.
Sheldon
________________________________________________
Wow, that's some profound stuff. Thanks, Sheldon & Sheldon.

Next week, Lennard Zinn answers your questions about American History, while Howard Zinn answers your questions about bikes. Should be a barnburner.
[Update: This is for you, KP. You don't think I just make this shit up, do ya?]