After the Hell of the North (Arlington) ride this morning, aka the Weekly Great Coppi Hill Rep Massacre, I noticed a crack in the top tube on my Giant OCR. After my epic 30+ MPH crash at the Baker Park Crit, there had been a slight crease in the joint between the seat tube and the top tube. The crease was on one side. Now it has spread, and is growing longer, and deeper. There are parallel cracks on both sides, probably the result of hard climbing, or hard descending this morning.
I am deeply bummed about this. I can't say that I owe my life to this bike. An inanimate object never saves one's life. One saves one's own self, and the objects are the mere instrumentalities by which one exerts willpower, to shape reality. (Deep, dude. Deep. Now pass the Dutchy...) But we develop a certain fondness for things that served as vessels of our will, which helped us achieve major goals and accomplish surprising things.
Sometimes we kid ourselves and say "that bike saved my life," things like that. I believe we do so because the notion of controlling our own destiny is scary, and if we were to emphasize the fact that most things that happen to us in life are causally related to our own actions, for better or for worse, the constant drumbeat of responsibility and accountability might be too much to bear. So we kid ourselves, and blame our failure on a faulty derailer, on gravel in the corner, on a client that is impossible. We also tend to blame our success on things too. In one way, this is foolishness. "Man, that new Dura Ace group helped me win the race." We love to take credit for our own success, but at the same time doing so ernestly brings with it the corollary that if we cause our own success, that we probably cause our own failure too. So most of the righteous pride we should feel, often gets turned into empty bragadoccio, which we know others won't take too seriously. This allows us to take some credit, but at the same time to not be taken too seriously as the architects of our own success. In turn, this avoids the possibility, the unbearable conclusion, that we might later be blamed for being the architect of our own failure.
In this way, material things, like bikes, aren't just vessels of our will. A good material thing is a crutch, something that helps us avoid having to deal with some of the ugliest truths in life, one of the ugliest being that we ourselves are usually to blame both for our success and our failure.
This brings to mind something that Mike Magnuson said in the excellent bike book,
Heft on Wheels
. He noted that a bicycle is just something that carries a weight.
Think about that. It carries weight in the literal sense. But it also carries a lot of weight that we aren't comfortable carrying. It does so gracefully and quickly. And maybe that's how we can come to love bikes as a friend. If we let them, they will help us. My bike helped me lose 65 pounds or so. It helped turn me into a racer. It's so amazing - other folks in my office describe me to strangers as "our lawyer who is a bike racer." That's a nice identity that I thought I'd never have. Non-racers call me "thin" - though I'm really nowhere near thin. My blood pressure is way down, my resting heartrate is around 51. I'm buying new pants. The bike has also helped me make friends, to see really beautiful sights near my house I'd have missed in a car, and it has given my personal life, my interior life, a lot of direction it had lacked for a few years. Did the bike do all this? No, of course not. But I can only stop and admit that the changes in my life are my own responsibility (and therefore the foulups are my problem too) every so often. Nobody wants to go around carrying that kind of responsibility for themselves at all times; it would be hard to just live and have fun.
The bike, my Giant, carried that load for me for over a year. It carried a weight. It saved my life.
Anyhow, here's an artist's rendition of the scene this morning when I discovered my bike is fatallly wounded:
So where to go from here? I'm thinking in the short term I may spring for a new Giant, a TCR Composite, all carbon and nifty bits, mostly Ultegra. I will look at the tier that has the Ksyrium wheelset, because they are cheaper if you get them with a bike package than buying them along for $600. Over the winter, I'm going to get a nice Flyte, probably the SRS 2, an aluminum frame with carbon chain and seat stays; or the all aluminum SRS 3. They are good quality inexpensive bikes to begin with, and if you are a public sector employee or in the military, you can get a *huge* discount on them through
Leonidas Adventures
. Joe R. with whom I race, absolutely loves his, and they also sell frame insurance to replace your frame if you wreck it, which is a certainty if you race enough crits. The new Giant will become my road racing and nice weather training and century bike, the Flyte - a beautiful but much cheaper ride, will become my criterium and bad weather training bike, because I can afford to wreck a $350 frame every season, but not a $1500 frame. Here's what the Giant I'm eyeballing looks like:
Finally, here's an artist's impression of how I looked, when I realized what this new bike was going to cost me: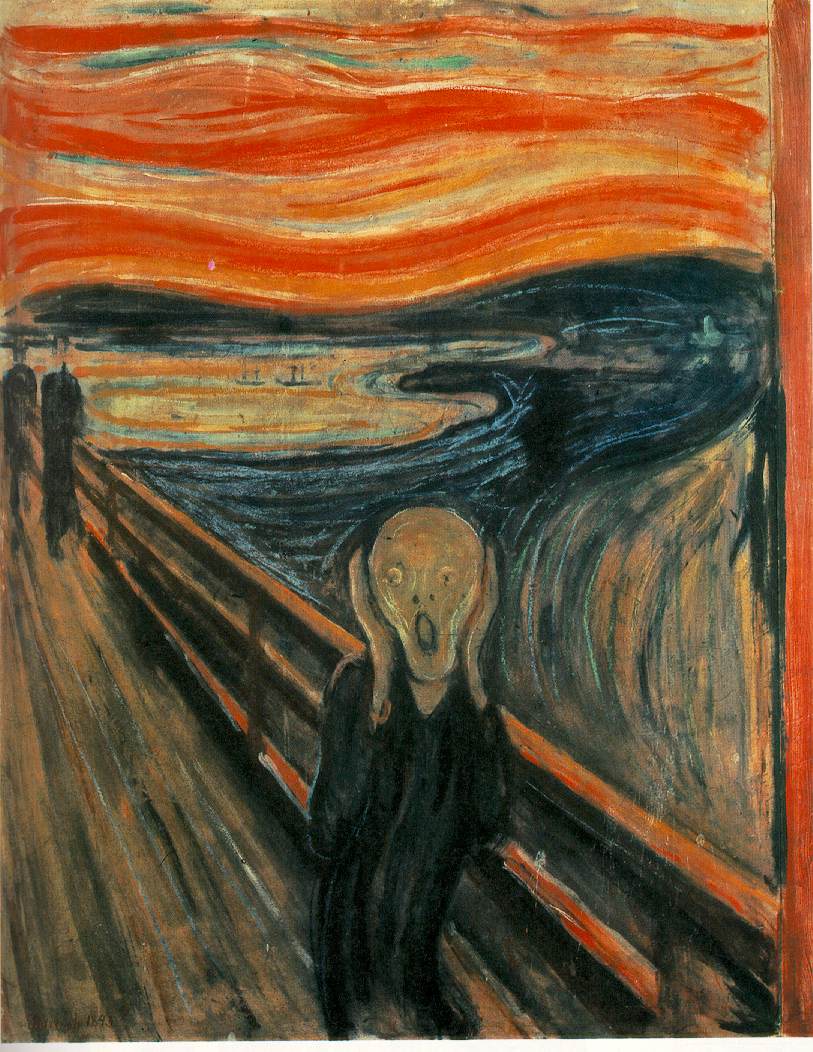 Okay, so it's not going to be that bad at all. In fact, the Giant has an amazing bang-for-the-buck quotient. And my man
Jonathan at Family Bikes
is going to hook me up on the deal - end of season is a great time to order a bike. But still, it's a lot of money, and I have to be honest, this bike has some big shoes to fill.
Okay, that's being more than honest, that's being a Metaphor Butcher. But you know what I mean. I'm going to miss the old OCR, and I'm hoping this TCR is as spectacular as they say.